FACILITIES
Professional Classroom Space Available!
Our facilities offer customizable classroom configuration and in-house administrative and hospitality staff. Each room is equipped with a state-of-the-art sound system, LCD projectors and a high-speed internet connection. We can provide the presentation tools necessary to conduct your meeting, including dry erase boards, podiums and lavaliere mics. In addition to the classroom space, you will have access to a fully equipped break room.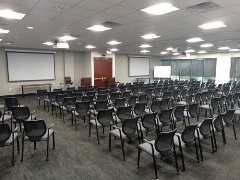 Pricing:
Space/Services Available:
Accommodates:
1/2 Day
Full Day
East 1 Classroom
up to 60 people
$300
$500
East 2 Classroom
up to 60 people
$300
$500
West 1 Classroom
up to 55 people
$300
$500
West 2 Classroom
up to 50 people
$300
$500
Conference Room
Frank Carter Board Room
up to 25 people
$250
$400
Wight Room
up to 10 people
$150
$300
Coffee Service
$50
$100
Custom Configuration
$75 - $150
*Based on set-up
Association Member Benefit
Members will receive a 25% discount off of the rates available to the public.